My bake station






























































































































































































































































In a recent blog event, Steph from
Kleiner Kuriositätenladen
asked what our kitchen looks like
behind the scenes
, which cook books we use, and where we do our blogging.
Inquiring minds want to know - as my husband always says - so I will just open the door for you: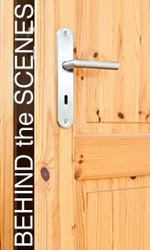 Since 5 years I am licensed to sell breads (and cupcakes) from my home. My kitchen was officially inspected, and I'm paying every year 20 bucks for the renewal of my Home Processor's License.
I am therefore legally:
I bake European breads for
A&B Naturals
, our our local natural food store - in summer twice, in winter once a week.
Since my breads are quite popular (modest blush!), it's more our less "baker's choice" what I want to make for them - as long as my rustic baguettes and
Multigrain Pitas
are also in the basket!
Delivery basket with baguettes, pitas and Pane Siciliano
Of course, a baker who enjoys experimenting, needs a lot of ingredients - here you can see a small part of my flours:
Backstair storage for rye, wheat, spelt & Co.
Our basement is too damp, therefore our kitchen backstairs was re-purposed for flour storage.
For larger amounts of dough I need a reliable work horse. Mine is a 20-qt Hobart, purchased from a store for used restaurant appliances. Though moaning and groaning loudly when it kneads, it handles even the stiffest multigrain doughs.
My Hobart mixer (20 quart)
When not at work or digesting, my other helpers reside in the fridge:
Sourdough family: rye, Forkish, Tartine and whole wheat starters
The inspiration for my breads I get from an ever-growing book collection, baking facebook friends,
Fresh Loaf bakers,
and other bloggers.
English-German bread baking books
And if I take a break from bread baking, I do other interesting things for a change - like baking CAKES:
No wonder that I have to fast now and then....


My mobile workplace is my Mac, I carry him up and down in the house. My recipe management programs are
Paprika
, and
BreadStorm
(especially for breads).
And sometimes a Queen (of the Night) keeps me company!
Of course I also have a desk - but there I'm not that often - it's occupied by somebody else - Toby!
Mess or creative chaos?
Flour on the table, pitas on the rise, freshly baked breads in the background, mixing bowls on the dishwasher, and I'm spraying baguette pans with oil - a typical baking day.
My kitchen is my working and living room!




My kitchen is my working and living room. Here I bake for my customers the (immensely popular) Sunflower Ryes, for example:
Sunflower Rye - one of my most popular sourdough breads
and for my family Strawberry-Rhubarb-Pie, always faithful to my credo: "Life is uncertain - eat the Dessert first!"
FB-friend and food journalist Kim Ode's Strawberry-Rhubarb-Pie